This week's BESTeam Feature Friday Artist is:
Her successful Etsy shop is full of incredibly gorgeous jewelry that was handcrafted to appeal to every taste.
It doesn't matter what kind of style you have, you will be able to find something that appeals to you in the incredible shop.
Whether your style is simple or bold, classic or trendy, elegant or glitzy, Mystic Wynd has something for you at a price you can afford.
You may have read the beautiful line in her banner, "An awareness of peace and love rose anew, As the spirit found truth and the Mystic Wynd blew..."
Those beautiful words are from a poem that Karen, shop owner and artist, wrote.
The poem is about life and learning to embrace the idea of being true to ourselves and learning not to care too much about whether we're up to the scrutiny of others.
Her words are as beautiful as her work!
Be sure to stop by her shop to see everything.
Interested in joining the BESTeam?
CLICK HERE.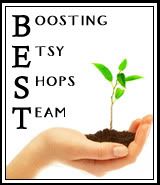 Check out some of the incredible team members:
Knitful Dezigns
Mossy Creek Soap
Poison Garden
Crafts, Kids, Home, and Life
Being Tazim
Art On Behalf Of
MsFormaldehyde
Las Flores Del Sur
Creativity Bugs
Designs By M'Ayanna
PecaniereGirl
Danizabeth
Beadaliciously Yours