Yay it is Friday! You have no idea how happy I am for Friday this week. All week long it has been karate camp at my martial arts school, which means 8am-9pm Monday through Friday. I am so exhausted!
But I'm not too exhausted for today's Feature Friday artist!
Today I bring you
Our Home to Yours
is a mother daughter team of epically artistc proportions. Debbi, mother of Amanda, finds incredible stress release from the creation of her pieces. It is also her favorite hobby. And it seems that artistic ability has run in this family for years, as Debbi's mom was an incredible artist.
Debbi's daughter, Amanda is a working mom of a toddler and life is never dull for her. She has her masters in Graphic Design, which helps add to the depth of her art.
Amanda also has a background in Fine Art. She designed the banner and avatars for Hearts and Home, and hopes to someday have her own graphic design business.
In their shop you will find gorgeous handmade jewelry,and also beautiful wedding decor and accessories.
You can also check out Our Home to Yours on
Interested in joining the BESTeam?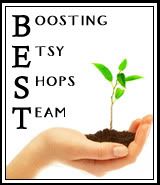 HAVE A LOVELY FRIDAY!!