Happy Friday!
Today I am featuring Sandy Vern
of
Sandy is a self taught crafter who truly enjoys the process of creating new things.
She is especially fond of soap making, knitting, and jewelry making. When she isn't crafting, she runs a pet sitting business.
She is the mother of seven babies, her Border Collie Australian Shepherd Cross, her kitten, 3 Bearded Dragons, and 2 Parrotlets.
Through her love of knitting, she got the idea of creating adorable little charm stitch markers.
Look at these, just in time for this weekend!



I absolutely adore these little cupcake stitch markers!
She thoroughly enjoys the meditative process of mixing and pouring of her "cold process" soaps,
as well as the artistic detail that goes into her "melt and pour" soaps.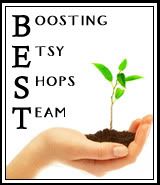 Check out some of the incredible team members:
Knitful Dezigns
Mossy Creek Soap
Poison Garden
Crafts, Kids, Home, and Life
Being Tazim
Art On Behalf Of
MsFormaldehyde
Las Flores Del Sur
Creativity Bugs
Designs By M'Ayanna
PecaniereGirl
Danizabeth
Beadaliciously Yours
Release Me Creations
Have a HAPPY FRIDAY!!!