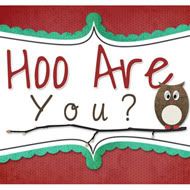 The crafty owls over at Nightowl Crafting want to know...HOO ARE YOU?
1. How did you spend the 4th of July?
I slept in with my puppies and my hubs. I worked on one of my crafty little projects in progress. We went to my in-laws to swim with the whole family who is in town from Illinois. We made burgers and hot dogs, and potato salad and chowed down. I watched the fireworks on television because we were too exhausted to deal with the traffic and lateness of the fireworks going off downtown.
2. What was a couple of your favorite things you ate for the 4th of July?
Deviled eggs. Shrimp Orzo Salad. Peach Cobbler.
3. Did you watch fireworks?
Only on tv. We were too lazy to deal with the traffic.
4. What is your favorite firework?
The ones that make the crackling noise, and then sprinkle and sparkle as they cascade down...they remind me of weeping willow trees
5. How hot was it where you were for the 4th?
About 100 degrees during the day, 80's at nighttime. I absolutely LOVE the heat...love it! Seriously. I really do love it. Everyone thinks I'm nuts <I am a little>
~Maureen