So, as I have alraedy mentioned, I finished my necklaces for the Academy Awards. It was a huge feeling of accomplishment as making 100 pieces of anything is a TON OF WORK!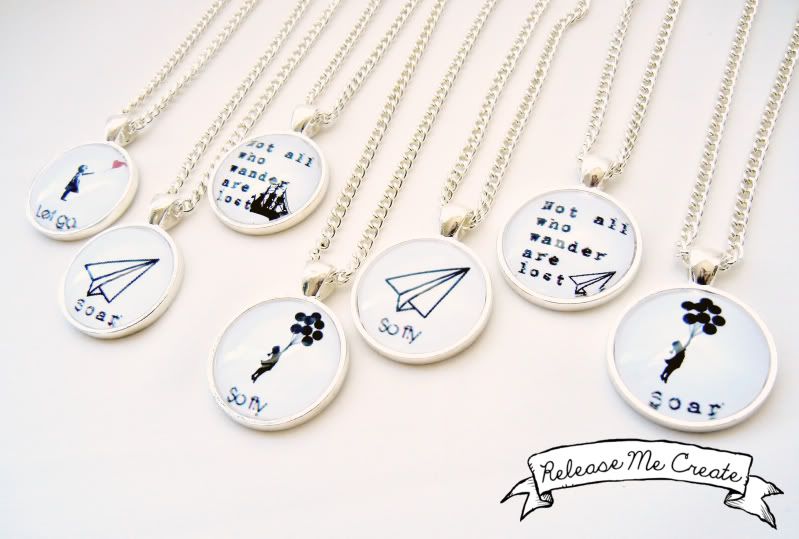 HOWEVER, I'm not done yet.
All 100 necklaces need to find their way into 100 carefully designed pretty little boxes to be shipped off to Beverly Hills, CA.

HOW I CREATED THE BOX DESIGN:
I decided to design the boxes entirely on my own, without purchasing any stickers or inserts (besides my business cards). Yes it was more work, but I am always going to save money and do it myself when I can.
-I used GIMP to make a round logo for the top of the box, and then for the inside of the box I made little notes to each of the celebrities. The notes are specific to the necklace that is within the box, so they know a little bit about the design and my inspiration.
-I arranged the logos into a Word Document, and then printed them out onto cardstock and cut them out.
-Then I just used mod podge to paste the circle logos to the top of the lid, and the notes to the inside of the lid.
-I stamped "Handmade with Love" on the back side of the box for a cute little touch
I'll have the final pictures of the packaging as I get closer to finishing everything up.
Sorry for the icky pictures, but I was doing these at night, so you get flourescent lighting

100 boxes, 100 lid labels, 100 label inserts, 100 tiny little airplane charms attached to 100 jump rings attached to 100 pieces of Divine Twine...yeah...lots of packaging! And then I need to attach the necklaces to their cards and insert them into the boxes with padding.
I will keep you all posted!