Drumroll please...ladies and gentlemen here is Khloe's jewelry made exclusively for her by Release Me Creations!


I used one of my favorite stones, the faceted Titanium Druzy. The pendant is even more gorgeous in person as the colors fluctuate in the light. And the size is out of this world. It's about 2.5" in length about about 2" across at the widest point, so a true statement piece of jewelry, which I thought would be a good fit for her epic style. I hand soldered and framed it in fine silver. The earrings are two tiny druzy stones that I also framed in silver. They dangle about 2" from the ear. I hope she loves them. I designed them exclusively with her style in mind.

I am so very excited about having this opportunity to gift her this jewelry. I don't want to sound like a sappy fan, but I am truly a huge fan of Khloe's. I adore her shows, and her as a person. She says what she means when she means it and I love that. Mainly I admire her strength. I feel a connection to her with regards to both of us losing our fathers, men to whom we were both very close to. Her success as a business woman in the face of adversity motivates me to always keep on believing and working toward my goals. I just think she's a beautiful person. I have heard plenty of people speak badly of her, even to me when they heard I was gifting her, but for me this is such a special opportunity. I hope she adores her pieces!

And of course I could not leave Lamar out of the mix. I made him a set of cufflinks using two tiny Titanium Druzy stones. They will match Khloe's jewelry perfectly.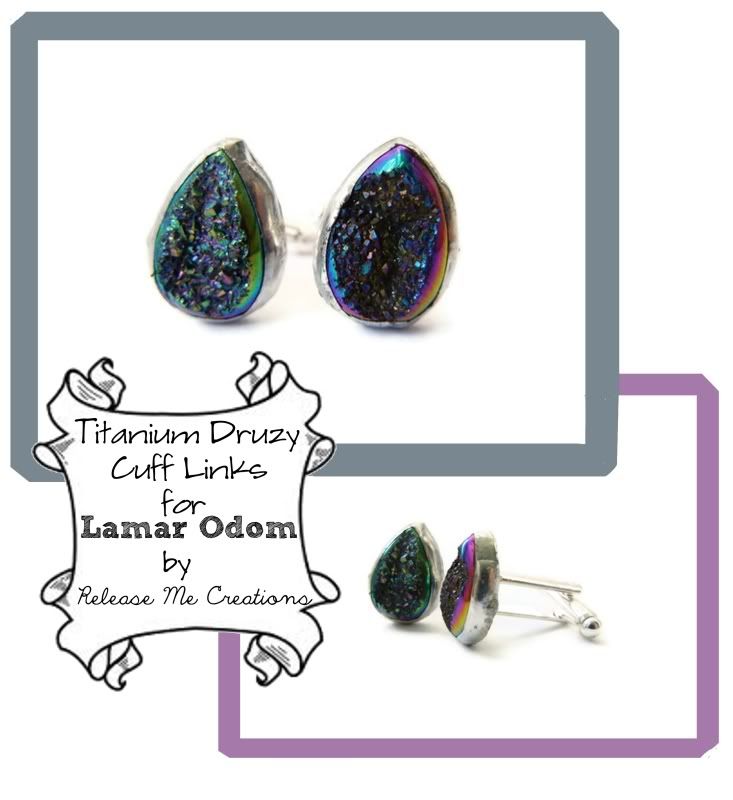 This amazing opportunity has once again been made possible by The Artisan Group. I don't know what I would do without them! The support I receive, and the amazing opportunities they provide, I am so endlessly thankful!

I hope Khloe and Lamar love everything!! I'll keep you posted with anything I hear. Odds are I will not not hear anything back, which is okay with me. Just having the opportunity has been absolutely amazing (but man, a thank you coffee date with Khloe would be hella amazing while she's still in Dallas!! A girl can dream right?)

Oh! And here is how I packaged up the star couple's new jewelry gifts.
The packaging has to stay small, so I used two small boxes that fit into a small peach organza bag. I used some pretty blue ribbon and tiny initial charms around each box.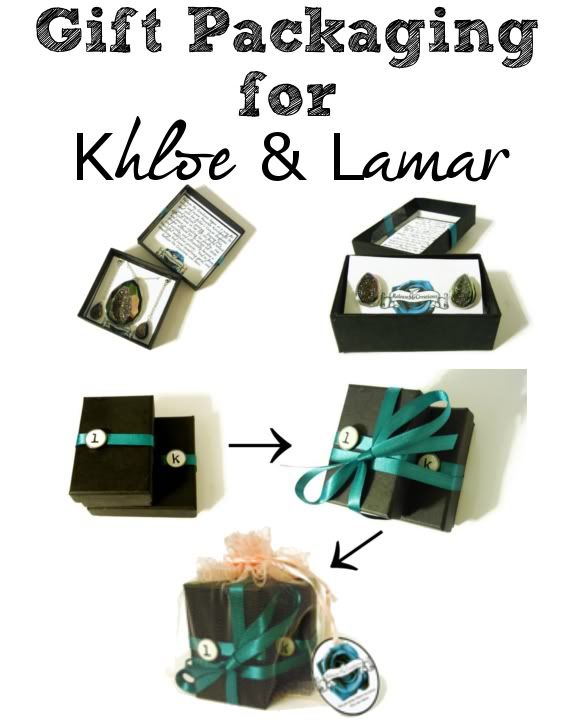 Have a fantastic Sunday everyone!!