Release Me Creations is Sending Jewelry to Actress and Comedienne Amy Poehler!

Photo Credit
OhmanOhmanOhman!
Excited is an understatement.
Parks and Recreation star Amy Poehler is going to be receiving and hopefully rocking all around town some of my jewelry. I'm so ecstatic to have yet another opportunity to get my jewelry into the hands of someone who is not only famous, but beautiful and funny to boot! I have The Artisan Group to thank, yet again, for this incredible opportunity. I feel so blessed!

So what is she getting?
Well, this one was a bit of a challenge. I did a little Google Image search of her photos and realized that she is not much of a necklace wearer, but rather more of an earring girl. And her earrings tend to be a bit dangly, with a bit of bling which immediately made me thing of my petite Titanium Druzy teardrop stones. But I still wanted her to have a necklace from Release Me Creations.
So here is the final verdict: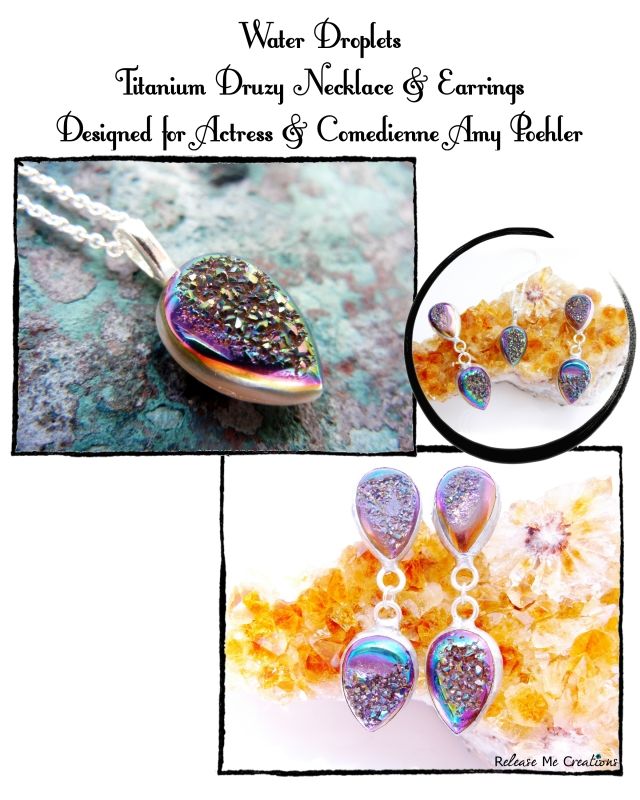 These stones are so very pretty. They are small too, each measuring approximately 1/2" x 1/4"
The earrings are post backs, and hang own about 1.5" from the ears.
The necklace has a single Titanium Druzy stone that is set upon a bright silver bail. The chain is an 18" Sterling Silver with a lobster clasp closure.
So what do you guys think? Do you think she'll love them? I sure hope so!