As I mentioned in my "Craft Room Evolution" post, I have a new DIY project.
Today I'm bringing you my brand new DIY Jeweler's Bench!
EEP! I'm so excited!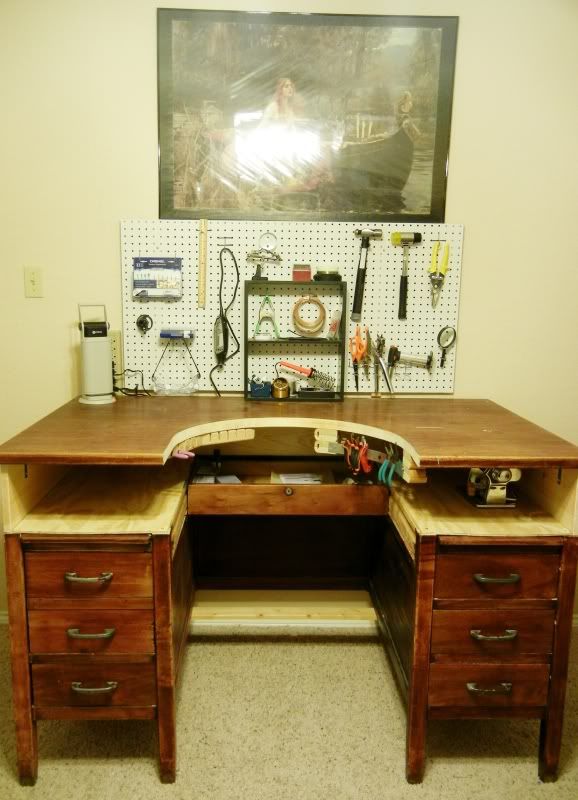 I have been needing an upgrade in my craft room, because trying to solder and complete metal smithing techniques on a plastic utility table is no bueno!
Sooo, I began searching for a good jeweler's bench and nearly lost my cookies at the prices! They were so expensive, and didn't seem to be very well-made or sturdy.
So I began searching for DIY options and came across this AMAZING tutorial called Frankenbench.
So I began scouring Craigslist <<Oh Craigslist...how I love thee!>> for a "solid wood desk" and found this gem.

For the project I called in the BIG GUNS aka my hubby and father-in-law. They were definitely more skilled with the power tools than I, so I was super grateful for all of their help.
Here is the desk after the riser had been finished. This was before it was attached with the L-brackets, as we still had to put the plywood down on top of the drawer area.

Frankenbench tutorial.
Time to cut! We used a handheld scroll saw. It was so loud!






As you can see we added a plier holder using a bent metal bracket.
Here is the file holder all attached (still need to put the rest of my files in there)
Some more views:
You can see that middle drawer in this picture. We cut it down so that it wouldn't be sticking out into my work area.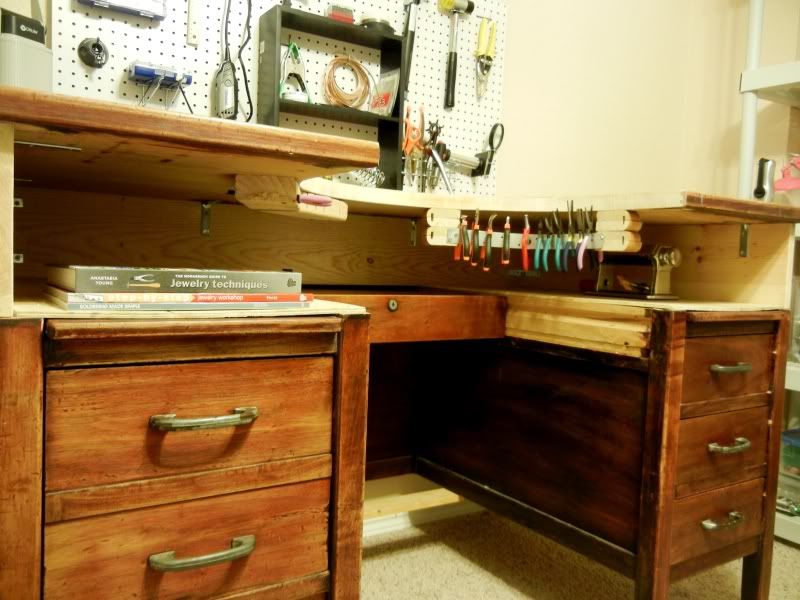 I AM BEYOND ECSTATIC!
The total cost of this project was $85 for everything, screws, wood, desk, EVERYTHING, including the pegboard!
AND
don't forget to
enter my giveaway
for some amazing <<AND FREE>> DIGITAL SCRAPBOOKING SOFTWARE!
Giveaway ends 1/12 at 12:01a.m. CST
PARTYING ON THESE FABULOUS BLOGS!