The kitchen is on its way to being finished! YIPPEE!
I finished the Wainscoting on the breakfast bar, and then also added a new coat of white paint completing my white kitchen.
Then I added some new curtains to the breakfast nook and a new shelf. It's transforming before my eyes!
All I have left is a chair rail and some Beadboard Wallpaper around the entire kitchen, new tile floors, and maybe a new cushion cover for my DIY Breakfast Nook cushions.

Okay, first things first. Kitchen Breakfast Bar Wainscoting:
What I used:
Level
Hammer
Tape Measure
Pencil
Square Ruler
1"x1/8" trim molding
8'x4' fiberboard panels
Liquid Nails
Finishing Nails

awl
Paintable Caulk
Latex Paint & Primer in One
Here is is in progress-
The first thing I had to do was measure the entire length and height of the area I was covering. I had to make sure that my boxes were evenly spaced across as well as vertically. This was a bit of a trial and error ON PAPER. I was happy I didn't just slap it up, because even with all of my measuring I found that I had more space on the right then the left when finished.
After coming up with my measurements, I went with 12" square boxes with 3" inbetween, I put up the fiberboard. I had to do cuts with that as well, and I just used a large handsaw. Put the Liquid Nails on the back, and then slapped it up. I used finishing nails in each corner and a few elsewhere on the board where it felt like it wasn't laying flat.
I penciled in the outline of the molding before glueing them up, measuring and remeasuring and checking for level over and over.
I ran into an issue, one I think that is pretty common in all houses, in that the breakfast bar is not completely level, nor is it square to the wall and the floor. I had to make a decision to measure and have the boxes exactly evenly spaced and not in line with one another, or not. I chose to have them all on the same line. What I then had to do was adjust the measurements on the bottom pieces. They actually progressively became a little bit larger across the breakfast bar. But in the end, it's not noticeable at all.
Here's the first coat of paint-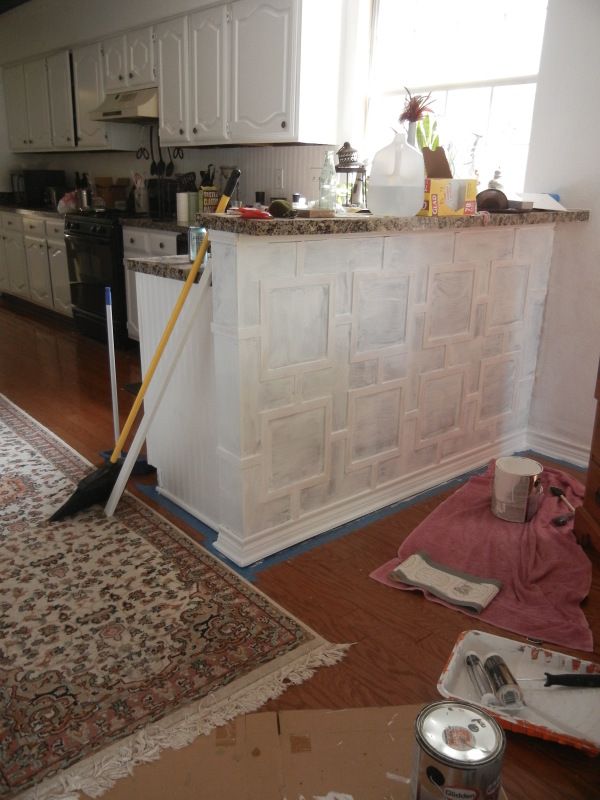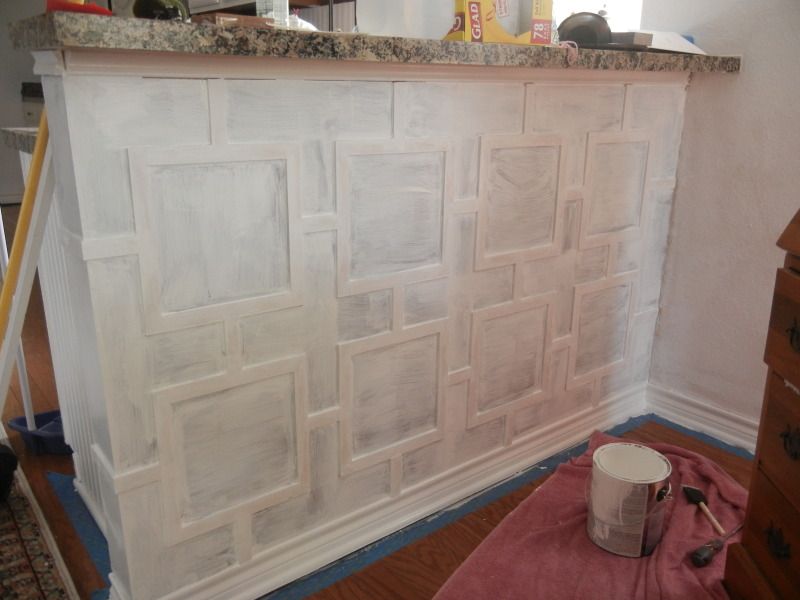 AND FINISHED!

Here's the new shelf...thank you Hobby Lobby 50% off! It's covering up two old outlets, a telephone jack and a cable jack.


Then I added a sheer curtain over the sink:


And new Crushed Ombre curtains in the breakfast nook:


And here's the new textured border, unfinished. I just added a white wash coat to it to make the design pop and to lighten up the gray a little bit. I'll have finished pics soon :)

Next on the agenda: Add a chair rail and some beadborad wallpaper, finish the half bath, then either tiling the kitchen floor, or install wood floors! Whohoo!