It's almost April, which means it is almost Earth Day!
I have been feverishly finishing up my Celeb Earth Day gifts, as I need to get them out to California this week.
So here are the finished bracelets! These little beauties will be going to
Jeremy Piven, Tom Hanks, Bill Maher, Adrian Grenier, Kate Bosworth, P!nk, Leonardo DiCaprio, Dave Matthews, Rosario Dawson, Woody Harrelson, Julia Louis-Dreyfus, Daryl Hannah, Drew Barrymore, Ellen DeGeneres, Orlando Bloom, Jake Gyllenhaal, Josh Hartnett, Sting, Barbra Streisand, Alicia Silverstone, Courteney Cox, Cameron Diaz, KT Tunstall, Mark Ruffalo, and Edward Norton.
I included a little note to the fellas that if they're interested in a set of cuff links I'd happily make them...poor guys.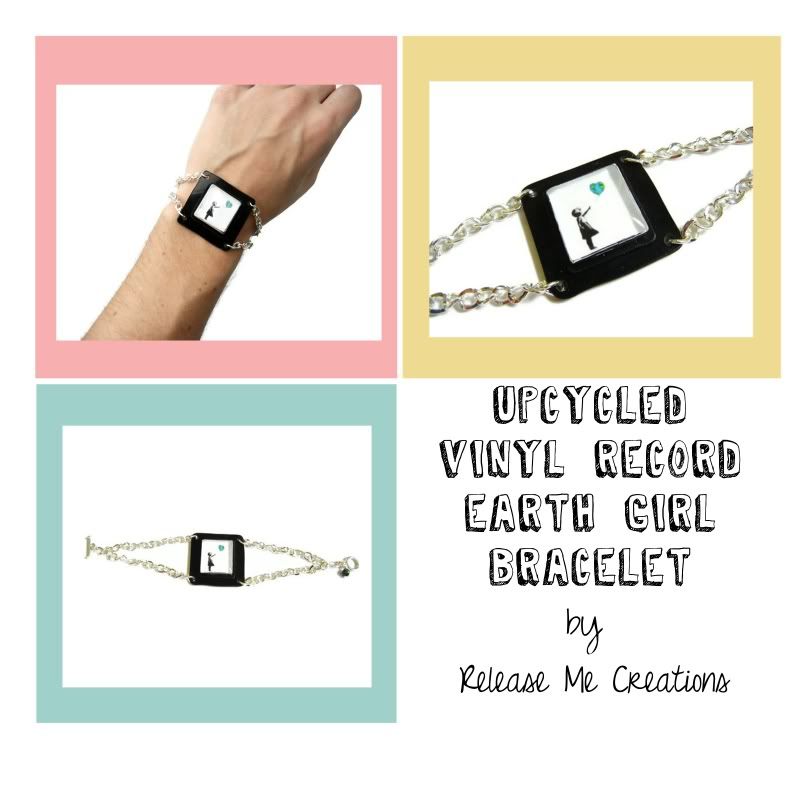 They were made using old vinyl records, which I hand cut, and then shaped and sanded down for a perfect setting. I was again inspired by Banksy's street art for this piece, but this time I added my own flair, and created an Earth heart shaped balloon for an Earth Day touch.
Now, perhaps almost as important as the bracelet itself is the packaging.
So here's a little DIY Packaging for my Earth Day Bracelets:
SUPPLIES: Hole Punch, Scissors, Tissue Paper, Small Kraft Bags, Sticker Labels, Business Card or Cardstock)
1) I punched holes in my business card to act as a holder for my bracelet.
2) I cut slits to the holes so I could slide the chain to rest in the holes
3) I wrapped the card and bracelet with tissue paper in a neat little package and then added a little note to the celebs...you can see the back has all of my contact info on it (I used GIMP to create them)
5) I used the sticker labels from my DIY Sticker Label Tutorial to close the bag, and then punched holes for my divine twine to go through so I could tie a cute little bow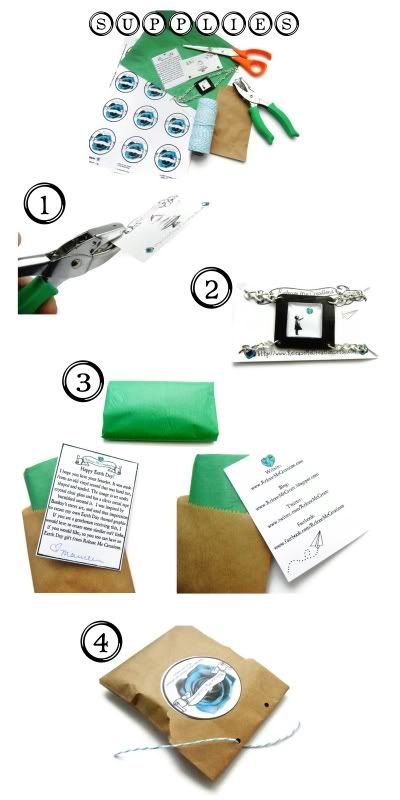 AND TADA:
Have a wonderful Wednesday!
Stay tuned...later today I will be posting the finished packaging for Tori Spelling's jewelry!