I'm back! Whew, I know it has been a LONG time since posting, and I sincerely apologize. But, as promised I am ready to post my DIY Board and Batten Wainscoting Project!
So, our living room wall has been bugging me for awhile. It was just so bla. And our entire first floor is one color. So I have been trying to figure out a way to update it and make it amazing.
My answer was DIY Board and Batten!
Hover your mouse over the image below to see the before magically change to the after!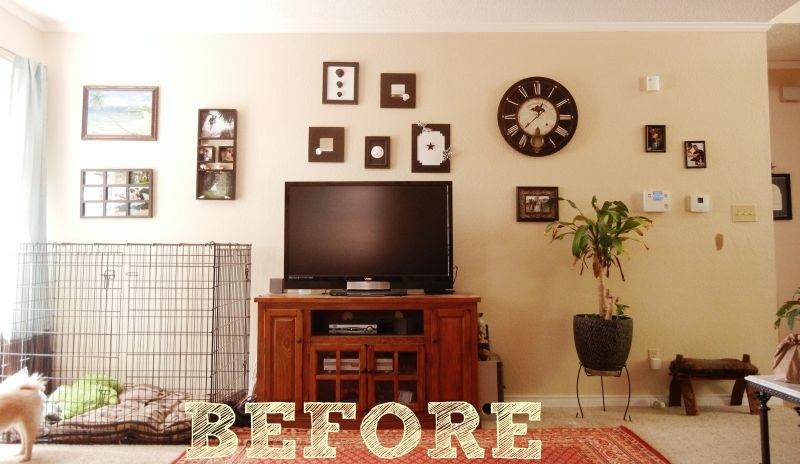 And the side view:



We like to call it our "Wedding Wall" as it's all pictures from our St. Lucia wedding. Which, funny enough, yesterday was our 4th Wedding Anniversary! Perfect timing for a finished project.
Anyway, I researched and tried to make this the cheapest yet most striking renovation possible. My total for everything was only $150!!! But it looks so much more expensive. I love it!

Here's what I used:
4x6 Paneling (Fiberboard $8.56/panel)
MDF Bender Boards (1.98 each...come in 8ft lengths
Liquid Nails
Brad Nails
Molding (Crown and Cove)
Paint + Primer (Glidden)
Nail Setter
Nail Hole Filler
Caulk

First I put up the paneling using Liquid Nails and Brad Nails for reinforcement. I WAS NOT lucky enough to own a nail gun so those puppies went in nail by nail with good ole' elbow grease. I also used this fabulous tool called a "Nail Setter" which recessed the nails without me having to hammer onto the paneling causing further dents and marks.



Then I did the vertical. I decided to cover the cracks instead of having to cover those with spackle. So my measurements were based on that. The very last board at the far left was a bit smaller due to this, but I didn't really care too much as the curtains cover it. The smaller horizontal boards went in last:





Here you can see the small shelf. I didn't want it to stick out too much, so this was perfect for me:


OH! And one more thing. As this project finished up, I was on a roll and decided to do the dining room. I'll be unveiling that project tomorrow. Not Board and Batten, but a pretty dramatic transformation nonetheless.
Here's my list of planned projects:
1) Extend Board and Batten Wall to Entryway
2) Add Chair Rail and Beadboard Wallpaper to Master Bath
3) Paint Kitchen White to match my cabinets
4) Paint Living Room Ceiling Fan (it's gold and brown....ick)
Stay tuned to see how I complete all of these on a budget!